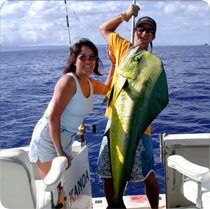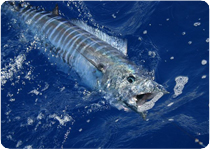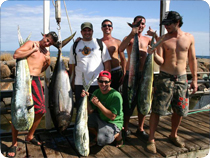 The main Game fish found in Hawaii are Blue Marlin (to over 1,000 lb.), Striped Marlin (to150 lb.), Spear Fish (to 60 lb.), Mahi Mahi, (also known as Dorado or Dolphin fish) (to 70 lb.), Wahoo (to 80 lb.), Skipjack Tuna (to 30 lb.), Bonita Tuna (to 20 lb.), and Yellow Fin Tuna (Ahi) (to 300 lb.). These fish migrate in and out of the Hawaiian Islands and can be found throughout the year.
Our most universal style of fishing in Hawaii is trolling with lures at 8 to 10 mph. Using this technique you can cover a very large area. The lures are on the surface and splash, dive, and create quite a lot of commotion behind the boat. All of our game fish swim in excess of 30 mph. and will hit the same lures so there is no particular lure for just Marlin or Mahi Mahi. Strikes doing this type of fishing are very exciting as even a small fish can pull quite a bit of line off a reel in a hurry. A large Marlin strike can be unbelievable as they can pull 600 to 900 yards of line in a matter of seconds.
In contrast to lure fishing we also troll using live and rigged bait such as mackerel, small tuna, or squid. This type of fishing is done in a particular area such as a sea mount, fish aggregation devise (FAD), or drop off, as you can only run up to three lines and have to move very slowly. We also use a downrigger to get one bait down deep which can result in some great action. We often catch huge Barracuda (to 80lb.), Giant Trevelly (to 150 lb.), Amberjack (to 150 lb.), Hawaiian Salmon (Rainbow runner) to 30 lb., and Gray Snapper (to 25 lb.), by using a downrigger.

Light tackle bottom fishing is also available on private charters only. We offer 4, 6, and 8 hour trips on both boats and it would be my recommendation to try at least a six hour trip to give yourself time to get lucky. As with any kind of fishing timing is everything and the more time you spend the better chance you have of finding the big one. Share boats ( up to seven maximum on "Luckey Strike II") are arranged when people arrive on the island as we need a minimum of 4 persons to make a trip. "Reel Luckey" does not offer shared charters. Private charters only. Private charters can be arranged in advance and are highly recommended. Luckey Strike II is a U.S. Coast Guard Certified vessel licensed to carry more than six passengers and can accommodate larger groups.
There are no guarantees when it comes to this type of fishing as we are dealing with migratory fish that cover thousands of miles of ocean and might be here one day and 50 miles away the next. I've been fishing here for over 40 years and what keeps me going is not knowing what is in store for you on any given day and knowing that at any place or time you can see the fish of a lifetime.