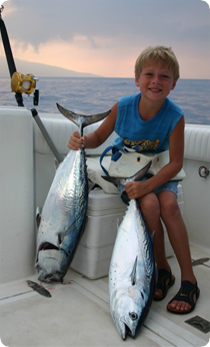 Do I have to go out for eight hours to catch a fish?
Your best bet is to talk with Cindy or Tad and they can let you know where the action has been. During different times of the year the fish move in close to the islands so you don't need a long trip to get a good chance. We will be up front and honest and let you know how the shorter trips have been doing. Our track record on 1/2 (four hour) and 3/4 (six hour) trips using different techniques have been outstanding.

Help! I've never fished before but want to try!
The majority of our customers have done very little fishing if any at all. Our Captains and crew will explain all the equipment, our game plan for the day, and what to do when we hook up with a fish. They will even fill you in on our secret ways to get a big one such as "eating a sandwich", "using the head", "being asleep in the fighting chair", or maybe even "watching the ball game on TV." These are proven techniques that have worked for years!

Do you Tag and Release any fish?
YES! We try and tag and release any Marlin, Barracuda, Sharks and Amberjacks that we can if they look like they will survive. Sometimes we have to perform some CPR on the fish to get them revived and strong enough to swim away. It is extremely gratifying to watch a beautiful Marlin swim away after giving you the fight of a lifetime. The fish really appreciates it too!

Can we take any fish with us?
Every company have different policies when it comes to taking fish so if you are not going with us be SURE to ask! We will be happy to fillet out whatever fish you can use. Remember that the Captain and crew can either eat or market any fish you don't want so NOTHING goes to waste and they don't have to eat bait for dinner!

What do I bring on board for a charter?
You will need to bring your own food and beverage (no glass containers), sunglasses,hat, sunscreen, and a camera. Fishing license, equipment,bait,ice and coolers are provided.

Can I bring a non- fishing person with me just for the ride?
YES! The Luckey Strike II is the only Coast Guard Certified vessel on West Maui that can take passengers at 1/2 the share boat rate. You can even share a rod or trade off and on if the fishing is really hot.

We have a party of 12 or more people that want to go out, can you accommodate them?
The Luckey Strike II can accommodate parties of up to 20. We only fish six lines so people usually pick numbers, rotate rods, or just pick designated anglers. The main thing is being able to stay together for a fishing trip. We have a lot of fun on bachelor parties and family reunions, especially during the whale season where you get a great whale watch and fish at the same time.

If I'm on a share boat on the Luckey Strike II how many people will be on board?
Relax! We only book up to Seven fishermen maximum on the Luckey Strike II on share boats. Passengers can go along at 1/2 price. So bring your wife or a buddy along so you won't feel lost on that big boat!
Can we create our own private charter for fishing or whale watching?
YES! We put together special private charters all the time. We do weddings, whale watches and bachelor party fishing trips so don't be shy! Just let Cindy know what you have in mind and she can make arrangements for you.

Can we have our fish mounted?
YES! We have worked with Gray Taxidermy for over 20 years and they do a beautiful job on all their mounts.

How Do I book a charter?
Just e-mail us the dates that you have in mind and what type of trip you are looking for or better yet just pick up the phone and call Cindy at (808) 661-4606. We can answer any questions you might have and get you set up. We need a Visa or Master card number to hold the reservation but you can pay at the boat on the day of the trip with cash,travelers checks, or a credit card.

Do you have a cancellation Policy?
We have a 72 hour cancellation policy. If you can't make the trip just let us know 72 hours in advance and there is no charge.

Share a boat or Private Charter, what is the difference?
When you share a boat with other people we put a maximum of six fishermen together for the trip. A private charter lets us have more options on what we can do on a trip. The big difference is the cost! We highly recommend a private charter if at all possible so save your pennies.

Do you offer any discounts for booking direct or using an A3H Card?
YES! We work closely with A3H (Activities Owners Association) and if you don't have an A3H card you should really consider getting one as you can get some great deals on most activities by booking directly with the owners. You can still get direct booking CASH discounts without theA3H card, just ask Cindy when you call.

Do I leave a gratuity with the captain and crew?
Consider this: You go out to a nice restaurant and have a good meal and friendly waiter. Do you leave them a gratuity? You get in a cab and drive into town. Do you tip the driver? A bell boy takes your bags to your room. Do you give him a little something? These people spend 5 to 15 minutes with you. It amazes me to watch people have a great time catching fish or not catching fish, seeing whales, dolphins, manta rays, green sea turtles, and other wonderful wildlife while the Captain and crew spend 4 ,6, or 8 HOURS with them answering questions and trying their hardest to catch them the fish of a lifetime. After all this time spent, many people walk away without leaving them a dime! The Captain and crew are no different than a good waiter at a restaurant. They rely on gratuities,fish money and basic wages to survive. PLEASE don't just walk off with a hearty handshake. There is no gratuity built into the cost of your trip so be respectful and generous if you've had a good time!

Will we be bottom fishing on our share boat trolling trip?
We only bottom fish on private charters. The bottom fish you catch on light gear during the daylight hours are very small. Many of the small fish you see snorkeling are what you might catch. Most of these fish would look good in an aquarium but not much of a thrill to catch.
To catch our larger bottom fish such as Gray Snapper, Giant Trevally, Amberjacks, Sharks and Barracuda we usually are trolling very slowly with live or rigged bait using a downrigger as well as surface baits. This way you have a chance at all of our game fish at the same time. We will happily bottom fish on private charters and try our hardest to get you into something exciting to catch.

Do you use live or natural bait on every trip?
The "Reel Luckey" is run by Captain Tad Luckey and uses ONLY live or fresh bait. He fishes GPS coordinates that have taken over 30 years to find. He uses lighter tackle and his trips are only available on PRIVATE charters.
The "Luckey Strike II" uses lures but usually will have bait on board in case they find floating debris or are fishing around a FAD. These are two totally different kinds of trips so be sure you get on the one that appeals to you.